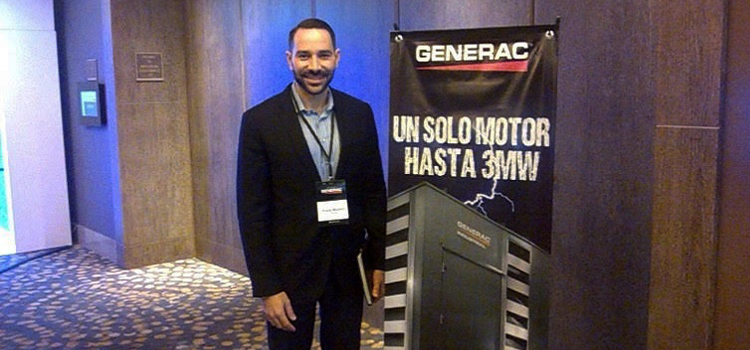 Why did you participate in this event and what did you show in Chile?
We have been working with BNAmericas for several years, and that is why we wanted to come to Chile and take part in this event, particularly to know this market and other companies in the energy sector of this country, while we develop a strategic plan for Generac in the long term. 
Today, we are not participating in the Chile energy market, but we do have plans to develop a dealer and get into the market. Right now, we are using this visit to gather information and analyze how a positioning strategy can be designed for Chile.
When will you start operating in Chile?
We are inviting a Chilean company, which is our current competitor, to visit our facilities in two weeks. Based on that, we believe that we will be able to officially launch our brand in Chile early next year and with that, start developing projects in this country.
Which are the advantages of your technology as compared to your competitors?
We, at Generac have the widest portfolio of power generating groups in the industry. These are the core business of our company, and that is why we have gas, diesel and LP gas fueled solutions.
Therefore, our current goal is having solutions for each fuel type. Using LP gas in Chile is becoming increasingly popular, and that is why we are very interested in entering into the Chilean market. Here, we are perceiving great interest from industries such as salmon processing and mining companies to purchase our solutions, which also are environmentally friendly. 
How will you close this year, and which technologies will have the highest growth on year 2016?
For us, this year has been very good, as the Latin American market has enabled us to have significant growth by acquiring other companies to provide a wider assortment of solutions to our clients.
The last quarter has been very good from a corporate perspective, as it will allow us to continue our company's development. As related to Chile, on year 2017 we will officially start our operations in this country, with the horizon to deliver a wide portfolio of solutions and the best client service.
What conclusions can you draw from the event, and which message would you send to your clients?
The most important goal of this Congress is continue moving towards the countries interconnection, as related to energy systems. Each country in Latin America has its own systems, but there are no short, medium or long term agreements to work together and build a large energy connection among countries in this region.
How do you think that energy efficiency technologies can contribute to a better development of data centers?
In the United States, we are key player in development of telecommunications and Data Center projects. We want to transfer all that experience into projects developed in Latin America, and the way we can do that is by being promoters of information towards the IT industry.
To achieve that, we have developed a work plan including visits to engineering and IT firms, and we offer project design consulting, and training courses on use and design of electric power generation systems. Also, depending on the market, we offer options for different fuel types, aiming to maximize the use of our generating equipment, and deliver our clients an enriching, quality experience.