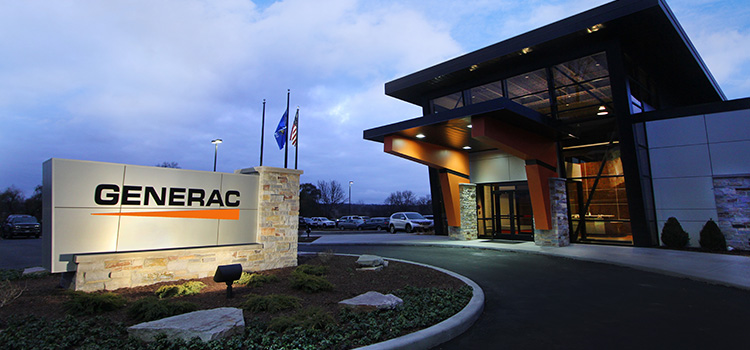 Last week, Generac, and the Wisconsin Economic Development Corporation (WEDC) announced that a WEDC award of tax credits through 2021 will support our company's plans for continued growth across the state. In fact, the project is expected to create at least 400 new jobs over the next five years at our Wisconsin facilities.
The plans include investments of more than $73 million in building renovations and equipment that will support our facilities in Waukesha, Oshkosh, Jefferson, Eagle, Whitewater and Berlin including the expansion of Generac's corporate headquarters.
"As we've grown and added facilities throughout Wisconsin, it became clear that we needed to invest in a cutting-edge space at our corporate headquarters allowing us to dramatically advance our key product development and engineering activities," said Aaron Jagdfeld, President & CEO. "We've been on our current campus since 1965, but a lot has changed since then. This project will help us to realize efficiencies that will drive continued innovation."
Aaron added that we'll continue to place significant emphasis on advanced research and development capabilities, including the addition of equipment and technologies to enable faster prototyping and testing of products in-house. "These investments will allow us to quicken the pace of our product development cycles, which is critical to remaining at the forefront of the industries we serve."
"In addition to the jobs created by this project, this expansion will enable Generac to usher in a new era of innovation, develop products to reach new markets and position the company for future growth," said Mark R. Hogan, Secretary & CEO of WEDC, the state's lead economic development organization. "That is good news for southeastern Wisconsin and the entire state."
In addition to the 400 jobs expected to be created at Generac, an economic modeling study projects that the project will indirectly generate 356 additional jobs in the region.
"I applaud the company for making the commitment to continue to grow in Wisconsin," said Governor Scott Walker. "This is the latest example of companies in Wisconsin and around the world that are expanding or establishing operations in the state because of the pro-business climate our policies have created over the last six years."